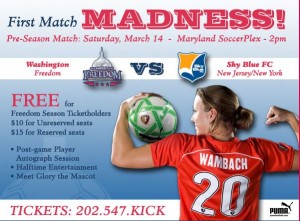 FYI – To any local Washington, DC folks… Washington Freedom just announced their double headers with DC United. I highly recommend you check this out (at least once). The DC United games are a lot of fun, particularly if you're sitting in the Barra Brava fan section.
Anyway, the Freedom's press release on the double-header announcement is below.
WASHINGTON, D.C. (March 4) – The Washington Freedom, in conjunction with D.C. United and the DC Sports and Entertainment Commission, announced today the clubs are set to play three doubleheaders at RFK Stadium. The matches are scheduled for May 23, June 13 and July 18, with the Freedom playing the opening match on all three dates.
"It's a tremendous opportunity for both organizations," Freedom head coach Jim Gabarra said. "We've done these in the past and they were hugely successful from both teams' points of view. I think it offers fans of D.C. United a chance to see our product and offers our fans a chance to see D.C. United's product. I just think it's a great mixture of two different markets and for us to be able to play at RFK again for three games, we're looking forward to it."
The first game, on Saturday, May 23, features the Freedom taking on Sky Blue FC (New Jersey/New York) at 5 p.m. followed by United taking on Real Salt Lake at 7:30 p.m. Originally scheduled for June 14, the Freedom will now take on the Chicago Red Stars on Saturday, June 13 at 5 p.m. followed by United facing the Chicago Fire at 7:30 p.m. The final double-header on Saturday, July 18 features the Freedom facing Saint Louis Athletica at 5:30 p.m. United will face the Colorado Rapids at 8 p.m.
"We are very pleased to once again partner with the Washington Freedom," said United Executive Vice President Stephen Zack. "We are excited about the launch of WPS and feel these double headers offer a great opportunity for our fans to experience the woman's game."
For Washington Freedom ticket information, please call 202-587-KICK (5425). For more information on D.C. United ticket packages, please call 202-587-5000.