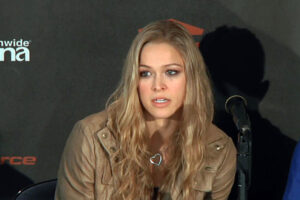 When Showtime advertised the "All Access: Ronda Rousey"; it was market as a 24-7 look into the Strikeforce champ's life. While this is partially true; it was so much more than anyone could have expected.
Besides following Rousey to her "ESPN: The Body Issue" shoot and her appearance at the UFC Expo; the Showtime cameras decided to also interview some of the top names in the sport, including Gina Carano, Julie Kedzie, and Rousey's opponent on Aug. 18, Sarah Kaufman, who pulled no punches to talk about what she wants to do to the champ. Carano and Kedzie talked about the development of the sport in general, with the latter have some great insight into what the sport is really all about. Even Dana White makes an appearance to talk about his newly found support of the women's divisions.
(It is expected that Cyborg Santos will be in the second part next week.)
So, if you were expecting this to be all about the champ, you will be pleasantly surprised.
You can watch the full episode below.
Filed under: MMA