We walked along the open path, a former road now overgrown after years of non-use and disregard, and came upon a small pond, created from the recent heavy rains and natural water runoff. Mark stopped to take notice, pointing out the movement at the far end, likely a frog which jumped into the water. I stared at the scene for an extra minute as Mark started further along the path. Something caught my attention.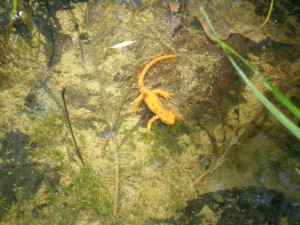 It's not really an orange frog. It's a spotted newt.
"Hey. Can frogs be orange?" Sitting in the pond was bright orange creature. OK, so it wasn't a frog (I knew that) but it was some type of lizard that neither of us had seen before. A very cool start to the hiking adventure. Later, we discovered it was a eastern red spotted newt, which happens to be the official amphibian of the state of New Hampshire. (I kid you not.)
With a final break in the rainy season, it was time for an adventure with Mark and so we went to Zoar Valley – a unique "multiple use area" and one of the New York State Forests. It has a deep gorge, rivers, cliffs and dense forests. While a favorite spot for hikers and whitewater rafters, the area is largely undeveloped, which means trekking through the woods on not-so well-defined paths.
With the early morning bringing a long, hilly bike ride for me and a long, hilly run for Mark, we both ran out of steam about toward the end of our hike. And while I'm sure I became annoying the final mile, when my mind started to wonder just how lost we were, the afternoon was spectacular. Among the highlights – stopping to look out over the cliffs and seeing a bald eagle fly just a few feet in front of us. The bird was graceful and majestic and catching a meaningful (if startling) glimpse was worth the trek through pricker bushes which seemed to have a certain love for my bare ankles. (Note to self: need to purchase proper hiking pants and socks.)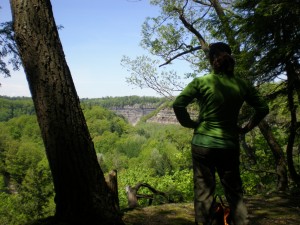 Taking a break to look at the view at Zoar Valley
Granted, I got a bit tired as our hike wore on, but don't mistake my weariness for lack of enjoyment. Time outside is always time well spent to me, bringing me to my center, allowing me to enjoy the present, forgetting, if for a moment, the gigantic to-do list which awaits me back on my laptop. This is life – an orange frog, a bald eagle sighting and a gorgeous view.
The adventure created a new perspective for Sunday's work assignment – covering the Western New York Flash hosting magicJack in a Women's Professional Soccer match in Rochester. There were more than 8,000 fans at the game, marking one of the biggest crowds in the three-year WPS history. For those in the women's soccer know, the professional game has been a difficult sell in the United States, with the original attempt (WUSA) folding and the current incarnation (WPS) struggling financially. The debate about the viability of women's professional team sports will continue, likely throughout the rest of my lifetime. (Or perhaps it just feels that way.)
But one thing stood out on Sunday night, rising above from all the numbers, figures and opinions – the passion of the women on the field. They care about soccer. They care about women's soccer. They talk not just about the "game" but about the "product" understanding, perhaps more than most athletes of any ilk, the business and entertainment aspect of sport. They don't want gimmicks. They want others to fall in love with the game that has captivated them so thoroughly since childhood.
In one respect, women's professional sports are trying to carve out their a in a crowded sports marketplace. But in another sense, these women have already carved their niche, finding a way to embrace their passion and talent and create their own opportunities.
Life is more enjoyable, and has a greater impact, when it's lived, rather than analyzed, scrutinized and planned. That's when you stumble across an orange frog or draw 8,000 fans to your game. Where might you find your orange frog this week?