Saturday night, it was announced the female bantamweight division would be part of the focus of "The Ultimate Fighter" season 18 with champion Ronda Rousey being a part of tone time, with the winner of Miesha Tate vs. Cat Zingano being the other coach.
Many fans might not be aware of the depth and possible talent you could be seeing at the tryouts, so here is a few worth mentioning.
—–
Duke and Rousey
Jessamyn Duke
Standing at 5'11, InvictaFC vet Jessamyn Duke has racked up two wins in her pro career, after going 5-2 in her ammy career, She held the Tuff-n-uff MMA and AAMMA ammy bantamweight titles simultaneously.
Duke was recently scene training with Rousey for Duke's upcoming match with Miriam Nakamoto at InvictaFC 5 April 5.
—–
Sarah D'Alelio
InvictaFC's Sarah D'Alelio is 7-3 as a pro, coming off a win over current UFC signee Amanda Nunes. Currently ranked at #8 in the Unified bantamweight division, she is itching to get another shot at Rousey.
—–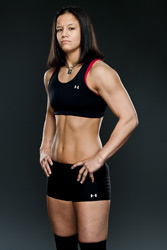 Baszler
Shayna Baszler
The perennial outsider, Baszler has been a solid force in the division, without getting signed to a major organization. Although she is coming off two losses to UFC signees Sara McMann and Alexis Davis, she is one of the most exiciting fighters in the division with a unique catch wrestling style.
—–
Lauren Taylor
Undefeated as a pro, Lauren Taylor has finished all of her 5 opponents via TKO in two rounds or less. This includes a 17 second TKO in her first match. She dropped to 135 recently.
—–
Marshall
Bethany Marshall
Currently at 4-1 in her pro career, Bethany Marshall had won four straight in the 135 division before dropping to 125 to face InvictaFC flyweight title contender Barb Honchak.
—–
Jennifer Tate
No relation to Miesha, Jennifer Tate has been out for two years to raise a family. Before her hiatus, Tate had went on a 6-1 tear. She recently trained in Muay Thai in Thailand.
——
Tonya Evinger
Currently riding a 3 fight win streak in the flyweight division, Tonya Evinger (11-6) is a seven year veteran of the sport. The all American wrestler states she is wanting to stage a comeback in the 135 division.
—–
Moras
Sarah Moras
A student under top flyweight Rosi Sexton, Sarah Moras (3-1) is coming off a win over a first round armbar win over Christina Marks. She has yet to be finished.
—–
Kelly Kobold
Kelly Kobold was set to return last year at InvictaFC, but an injury sidelined her. With an 18-3 record, she is most remembered for her battle with Gina Carano.
—–
Tara LaRosa
A legend in her own right, Tara LaRosa has yet to be finished in a fight. The former pound for pound queen has a 21-3 record and has refocused her efforts at Jackson's MMA.
Filed under: MMA