My first interaction with real cycling came in 2005 when I joined a Women's Quest tour in Colorado. It was there where triathlon first caught my attention and also where I learned that mountain biking was not for me. But road cycling caught my attention as did the life stories of our instructors for the week. They were all former pro triathletes and then there was Jacqueline Stanford who road in the first Women's Tour de France.
Yes. The Women's Tour de France was a real thing, from 1984 to 1989. Women's professional cyclists raced in conjunction with the men's Tour de France. Sometimes the stages were a bit shorter and the days of racing were slightly fewer. But women climbed the tough mountains and sprinted through the French countryside. They would start in the morning before the men began their race day. They raced just as hard as the men did. Then the Tour de France decided not to sponsor the women's race. And women's cycling took a gigantic step backward. The documentary Half the Road: The Passion, Pitfalls and Power of Women's Cycling is a fantastic, and at times frustrating, look at the reality of women's professional cycling. The brainchild of pro cyclist and writer Kathryn Bertine looks at the roadblocks to creating more equality for women in the sport.
My trusty Specialized road bike has taken me on many adventures.
As with many things, the problems are circular. The governing body of cycling, the UCI, holds much power in creating rules and regulations for the sport. The UCI says that women have not reached a critical mass in the sport. The women want the race directors to give them more opportunities to prove the UCI wrong. The race directors say they don't have the sponsorship money to put on more women's races. The sponsors say there isn't enough media coverage. The media says the UCI doesn't put on enough events for them to cover. And round and round we go. The documentary points out some ways in which the UCI could make difference simply by changing it's rules:
Eliminate the average age requirement of women's teams. (Hey! This actually happened since the film was made! Progress! But when looking at why women's cycling is in its current position, the imposition of age requirements hampered development for years.)
Eliminate limits on the distances women can race and the number of stages that women can race. It wasn't so long ago that women were forbidden from running any distance longer than 800 meters by track and field's international governing body. Hell, it wasn't so long ago we thought humans could not run a sub four-minute mile.
Require teams to pay women a minimum base salary. There is a minimum base salary on the men's side. If women have to work two or three jobs in order to pay the rent and feed themselves, it hampers opportunities to train and promote the sport and sponsors.
And here's the bigger picture — opportunity is everything.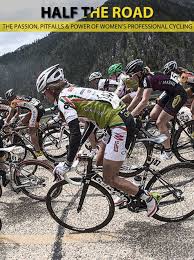 The men have had decades of opportunity to collectively grow in the sport and raise the bar. We've seen it other sports. Remember when no one thought women could dunk a basketball? Not so rare anymore. Give women opportunities and time to use those opportunities and the same thing happens in any sport, hell in any aspect of life from which they've been denied meaningful chances. The more you compete, the better you become. talent is everywhere, it only needs an opportunity. And to go a step further it needs consistency of opportunity. No one becomes a world-class scientist because she took a physics course. The physics course is a start and the world-class scientist develops because there are more courses, more opportunities, to learn, experiment, fail, succeed and grow.
That first step forward in women's cycling is happening on Sunday. A group of women pushed the organizers of the Tour de France to include a women's race. It was too late in the planning for anything more than a one-day event, but they won that. On Sunday, July 27 the women will race La Course — a 90K course which includes 13 laps of the Tour's final circuit on the Champs-Elysees. It will be broadcast live on NBCUniversal at 7:30 a.m.
This week you may have noticed social media touting Women's Cycling Week — a social media campaign to engage women cyclists from all walks of life. One day is a step. It's movement in the right direction. And what's important is not so much the women who actually are on the start line in Paris.
With all due respect, the importance comes when little girls watch women racing their bikes and think, "That's so cool. I'd like to do that." It comes from little girls watching women racing their bikes and having their imaginations set on fire, their soul ignited with passion which may led them to cycling. Or it may lead them to hockey. Or electrical engineering. Or medicine. Because we can't plot the direction that inspiration will take someone.
The importance comes when little boys see women racing their bikes and think, "That's so cool" and it doesn't register with them that girls and boys must be relegated to do different things.
The importance comes when people hear the stories of the women who made this happen and examine their own dreams with renewed hope that it's never too late to make magic happen.
This morning on Facebook, Kathryn Bertine posted a very personal video describing what she lost while fighting for what she wanted. It was obviously a painful confession for her to make — all the things she lost while fighting for women's equality in cycling.
"Sometimes when you fight for everything you want , you lose everything you have," Bertine said in the video. "Whatever you fight for in this world, whatever you believe in, it's worth it. And even if you lose it all, you'll find out who you are."
Bertine got a last-minute invite to join the Wiggle Honda team. She will be on the start line Sunday in Paris. And as much as I will enjoy watching the big names of women's cycling battle it out, I'll be cheering loudest for the American
domestique. https://www.youtube.com/watch?v=2YfAYJPUBVQ#t=315