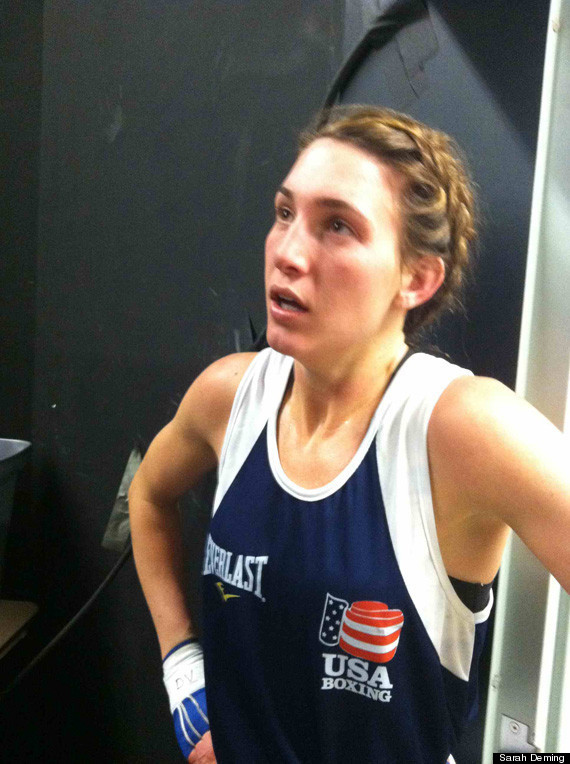 Mikaela Mayer
Image: Sarah Deming
The finals are set for the first ever U.S. Olympic women's boxing team Saturday night. Three challenger's brackets fighter are hoping to comeback from inital losses to keep their dreams of gold alive.
The "Cinderella" of the tournament has been Mikaela Mayer (Los Angeles, CA), who has fought all five days to reach the finals. Mayer edged out N'yteeyah Sherman (Akron, OH) to get her chance to rematch winner's bracket winner Queen Underwood (Seattle, WA) in the Lightweight finals Saturday. If she wins, she will face Underwood again Sunday in a winner-takes-all bout.
The same situation hangs with the rest of the challenger's bracket finalists, who must win two to get their respective spots.
In the flyweight division, Tyrieshia Douglas (Baltimore, MD) got the decision against Christina Cruz (New York, NY) to face Marlen Esparza (Houston, TX) in the finals.
Tika Hemingway, after getting a dominant decision over Raquel Miller (San Francisco, CA), will take on 16 year old phenom Claressa Shields (Flint, MI) in the finals of the Middleweight division.
The Olympic finals will stream Saturday night at 8 p.m. pacific on UniversalSports.com.
—–
Friday's Results
Challenger's Bracket Finals
Flyweight (112 pounds) – Tyrieshia Douglas, Baltimore, Md., dec. Christina Cruz, New York, N.Y., 22-14
Lightweight (132 pounds) – Mikaela Mayer, Los Angeles, Calif., dec. N'yteeyah Sherman, 26-25
Middleweight (165 pounds) – Tika Hemingway, Pittsburgh, Pa., dec. Raquel Miller, San Francisco, Calif., 21-6
—–
Saturday's Finals
Flyweight (112 pounds) – Tyrieshia Douglas, Baltimore, Md. vs. Marlen Esparza, Houston, Texas
Lightweight (132 pounds) – Mikaela Mayer, Los Angeles, Calif. vs. Queen Underwood, Seattle, Wash.
Middleweight (165 pounds) – Tika Hemingway, Pittsburgh, Pa. vs. Claressa Shields, Flint, Mich
Filed under: Boxing