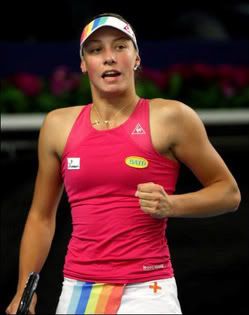 Yanina Wickmayer still ineligible to play tennis
Yesterday we learn that Yanina Wickmayer's ban was suspended and today she got an offer to play at the ASB Classic but now the ITF says she is still not eligible to compete.
Nick Imison, International Tennis Federation spokesman, said Wickmayer is still banned by the sport's governing body "until such point that we receive any further communication to suggest otherwise,".
Imison said the ITF is waiting to hear from the Belgian national anti-doping agency before it can make a formal ruling of their eligibility.
"Basically, it's up to (them) to liaise with the Belgian court and make its decision based on that and inform us," Imison said. "As of last night, we hadn't received any official correspondence at all."
"At this precise moment, she is ineligible to play," Imison said, adding it was difficult to say when an official decision would be made.
"From our point of view, procedures are clear, and that if a decision is made by a national anti-doping authority, then these are sent though to us and then the ITF needs to make sure proper procedure has been followed," Imison said. "At this stage, all we can say is that we await to receive the kind of relevant documentation and ruling from Belgium."
Source AP