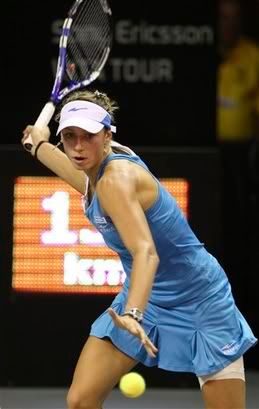 Yanina Wickmayer withdraws in Bali after year suspension
Yanina Wickmayer, who yesterday received a 1 year suspension from professional tennis, voluntarily withdrew from the ongoing Commonwealth Bank Tournament of Champions in Bali.
Wickmayer was suspended by a Belgian Tribunal for failing to report her whereabouts to anti-doping officials three times. She has denied any wrongdoing and splans to appeal to the Court of Arbitration for Sport.
Stacey Allaster, WTA Tour chief executive, said: "Yanina can appeal the decision to the court of arbitration for sport. Beginning in 2009, WADA (the World Anti-Doping Association) mandated that all international Olympic sports federations and the national anti-doping agencies were required to implement the whereabouts program."
"It is a fundamental principle that all of us in tennis share that we want to have a fair and clean sport for all players. Because it's an ongoing matter, it's in her best interest to let the matter sit. "The decision's been made, and now she'll deal with it with her legal advisers going forward." she added.
The player that replaced Yanina Wickmayer in today's encounter against Media Garrigues was Vera Dushevina .
Source and Photo AP