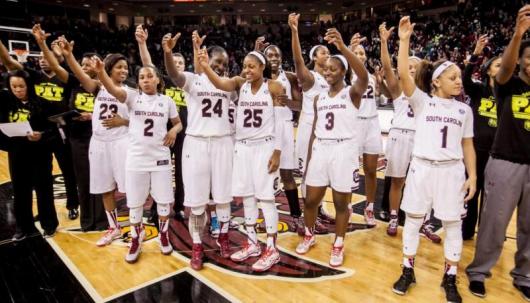 As we enter the last month of the regular season for college basketball, a few teams are still perfect. The Lady Gamecocks of The University of South Carolina happens to be one of them. As of today, they are 21-0. But the one question that still remains is, Can they continue?
The Lady Gamecocks have not had it easy up until this point but  they always came out on top. Some will say they make it look it easy, that they blew out so many teams, have the longest home winning streak in college basketball, and have not lost.  But the truth behind it is that they have had to work really hard with some of these wins including a one point win over, at the time, 10th ranked Duke earlier this season. They have also trailed several times at the half but they always seem to come back out in new form.
But how do they do it? Well, they have a lot of weapons in the starting line up and coming off the bench. Freshman A'ja Wilson has proven to the nation why she was the number one player in the 2014 class. She has won freshman of the week 4 times. Her field goal percentage is .514, the second highest on the team. She has yet to attempt a 3-pointer this season. She also has only started one game.
The only other player with a higher field goal percentage is junior guard, Tiffany Mitchell. Her field goal percentage is .519. Mitchell has started all 21 games so far this season. But this is a team effort with all players on the team contributing in some way. They have a total field goal percentage .491 with opponents only shooting .336 against them this season.
Some of the toughest games are coming up for the Gamecocks, with the one everyone has on their mind since the schedules were released, Feb. 9 against the defending champions UCONN Huskies, who are now ranked number 2 after having one loss on the season. This is USC highest ranked opponent this season. They also play ranked Tennessee, Kentucky, Mississippi St., and up next on Feb. 5, Georgia.
These next few weeks will only tell us what South Carolina's final record and final ranking will be. If things were to stay the same, they are in line to win the SEC regular season championship and still have their number 1 ranking. We wish the Lady Gamecocks the best of luck.