The Stanford women's Basketball Team closed out their regular season with two Pac-12 wins. The first one was an emphatic win over #7 Oregon State. And it wasn't just a win, it was a spanking. Once Stanford took the lead just before the end of the first quarter, they kept it and beat them by 22, the final score being 76-54. At one point Stanford lead by 30!
C and R were in doubt before the game, having just found out that leading scorer Lili Thompson would miss the game to attend her grandfather's funeral. Brittany McPhee got the start and made the most of it, scoring in double digits. She had 15 points on 6-of-7 shooting, adding four rebounds and a career-high four assists.
More importantly, she played lock down defense on OSU's Jamie Weisner. Jamie was held to just four total points and one made field goal. She usually averages 17 points a game. The Stanford team held OSU below their season average, too.
Shout out to Erica McCall. Not only did she score a career-high 25 points, she hit three 3-pointers. Yes, from behind the arc. Before this game she had attempted one 3-pointer, when the shot clock was going to expire. This game she attempted FIVE, and made three! Couple that with Stanford's three point specialist, Karlie Samuelson leading all players in REBOUNDS with 12, the world definitely has gone topsy-turvy. Karlie scored 13 points to go with her career-high 12 rebounds. She also made three of four 3-pointers. Annnd, her first double-double of her career! What an entertaining game that was. And where has this energy been all season?
Special game? Yes, as it was, as the Cardinal got their 1000th win in its 40-plus year history, moving the program into an elite group of seven schools that have reached the 1,000-victory mark. Current Stanford head coach Tara VanDerveer is responsible for 824 of them.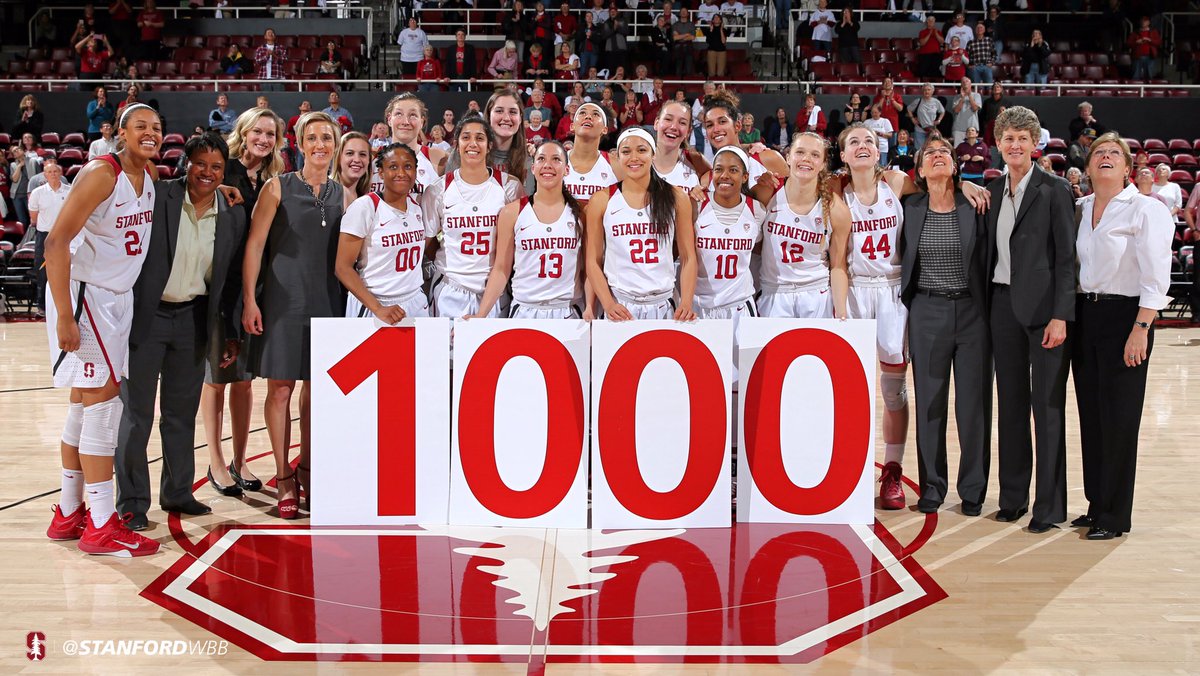 Stanford Wins 1,000th
Photo courtesy of Stanford Official site.
Speaking of Coach TVD, she knew OSU had a tall, 6'-6 center in Ruth Hamblin. Having Bird (Erica) stay out on the three point line and take threes meant several things. Their center was not used to coming out to guard someone that far away for the basket, so left her open and two, drew the tall rebounder away from the basket. Genius.
Oregon Game:

Speaking of Genius, let's rinse and repeat for Oregon, says TVD. We were without Lili again, however Oregon was sadly playing without their lead scorer and rebounder, Jillian Alleyne, who tore her ACL in practice this week. It was hard for the Ducks to recover from that blow.
Oregon also has a tall center just like OSU, and Erica stayed out around the three point line, first gaining confidence hitting long twos, and then a three. She would end up with her 15th double-double of the season (by halftime!) and finish with 25 points and a career-high 18 rebounds. Bri Roberson added 10 and Alanna Smith had nine points. Stanford would beat Oregon 69-42.
This game was senior night and it was great to see walk-on Kiran Lakhian get some quality minutes. She made several very nice passes for baskets and scored five.  Seniors Alex Green and Tess Picknell also got in the game and Alex scored a basket, too. It was great to see the whole bench rooting for them.
Lovely ceremony after the game, too. Also great decision years ago to do this after the game, as it gets so emotional. Tears did flow. We learned Kiran plans to go to medical school like her mother and Tess was almost bitten by a rattle snake, and her mother said they shot, cooked and ate the snake. Not sure if she was kidding or not.
With these two wins Stanford is the number four seed going in to the Pac-12 Tournament, which means a first round bye and then playing the winner of Washington/Colorado on Friday. As for the regular season standings, well, C and R are a little confused about where everyone ended up. UCLA upset ASU, so Oregon State and Arizona State tied for first, and Stanford and UCLA tied as well. So are we tied for third, then? Or tied for second if ASU and OSU are co-winners. So confusing.
Well, tune into the Pac-12 tourney next week. Remember last year, when Stanford did not win the regular season but won the tournament? That was awesome! Anything can happen in this year's deep Pac-12.
For more Pac-12 action, Follow C and R on Facebook and Twitter, too!
---