Article via www.pdga.com/women
The second and now annual Daisy Chains wrapped up on April 21st in Watsonville, CA at the beautiful Pinto Lake. After their impressive inaugural year, Christine Hernlund and the Daisy Chains staff had plenty of hype to live up to. Last year Daisy Chains world-premiere was the same weekend as the Women's Global Event, so this year they were able to break out of the form and highlight other events within the tournament. With ancillary events like a Ladies League Competition, and a skins match, Daisy Chains is a unique tournament experience for all disc golfing women.
The Daisy Chains course layout at Pinto Lake offers a challenge for all players, plenty of OB, but with shorter pin placements and a few temporary tees to allow for more birdie opportunities. The Daisy Chains layout at Pinto Lake was designed last year by Sharon and Leroy Jenkins in hopes to make this world class and extremely challenging course more fun for the ladies traveling to come play. The basket sleeves for this shorter layout were made permanent this year for the event. The course was in immaculate shape for the event because of the continuous care put in by Tom Schot and his helpers.
Saturday morning started out with a "skill shot challenge" hosted by Sarah Hokom #34563. While players arrived, checked in, and picked up their player's packs, they warmed up by throwing putts and upshots at numerous stations dedicated to certain throwing styles. Points were calculated and prizes handed out. This was a great icebreaker for the start of the event, and gave the ladies a chance to learn different shots to apply to their game.
The highlight for Saturday's single round was by newlywed, Catrina Ulibarri #44184, who shot a five under par, an impressive 1014 rated round. With only 2 rounds in this event, the rest of the Pro field had only one more opportunity to rack up enough birdies to catch her.
Lunch was provided both days, and what a feast it was! Merle Witvoet #5175 manned the grill and cooked up 90 lbs of tri-tip and carne asada while local ladies brought side dishes to feed the players, caddies, and staff. Having the lunches provided allowed the ladies to truly get to know each other and socialize (one of most important things in a women's only event).
After lunch, ladies collected their team mates to compete in the 2nd Annual West Coast Ladies League competition. Groups of 4 (ideally ladies from the same area or local course) competed on 9 holes and the team that shot the best compared to their player rating won. This year, "Team KK", took down the defending champs, the Tahoe Ladies, and earned the title of the West Coast Ladies League Champions and, more importantly, bragging rights.
Team KK: Johanna Atkinson #38155, Jennifer Umstead #42066, Kristine King #27725, and Lorena Randall #49673.
On Sunday, cards were now divided into divisions, except for the "Nursing Mothers Card" of Ebee Pinca #38926, Jenna Johnson #31672, and Christine Hernlund #47076. These ladies played both rounds together with babies in tow, focusing on their shots as well as their baby's needs.
The pro leader card on Sunday was Catrina Ulibarri, Valarie Jenkins #17495, and McKayla Thomas #53966. Catrina and Val battled back and forth, taking advantage of the birdies whenever possible to make up for any bogeys that were likely to occur. In the last couple of holes, Catrina had a two unfortunate roll aways, which allowed Val to move into the lead in the home stretch. After taking second in a sudden death playoff behind Sarah Hokom the previous year, Val was excited to win this event and cash in on the $900 payout for first place.
The 2012 Daisy Chains was actually McKayla's first tournament ever and her first tournament win as an Intermediate. She also simultaneously won the Intermediate division for the Women's Global Event as well, since it was the same weekend. After finally competing in a tournament she quickly realized her skill level was enough to play with the local pros. This year, McKayla played in the Pro division at Daisy Chains and proved she was in the right division as she placed third behind Valarie and Catrina.
It was evident that it's good to be a local in the Advanced division as Santa Cruz residents Jenna Johnson and Suzie Weigand #45954 had the top scores of the division. Jenna shot some hot rounds playing on the "Nursing Mothers" card and found herself in 2nd place in the end. Suzie moved up after her win last year in the Advanced Masters division to capture her second Daisy Chains title this year in Advanced.
In the midst of organizing prize packages and awards, TD Christine Hernlund had to go out and compete in a sudden death playoff with Mindy Carbajal #48501, and Autumn Long for first place in Intermediate. The playoff quickly ended on the first hole as Christine took a 4, and Autumn Long dropped in a 5, while Mindy cashed a 100 foot putt to save par and take the title.
Kelly Owen #52377,a recent California resident, took home the Recreational division improving her score by 12 strokes in her second round, and besting the hot round in her division by seven.
Jennifer Morgan #54322 of Nevada won the Advanced Masters division by six strokes in her first Daisy Chains experience which also earned her the last spot in the skins match.
The Daisy Chains staff focused on building off the payout from last year, and ran several fundraisers through the year including selling sandwiches at the Master's Cup events. The pro payout totaled $2,700 with the top finishers taking home payouts to match National Tour events. During the event, they raised $1,153 for the Walnut Avenue Women's Center by selling raffle tickets for donated products from DGA, huk lab, DiscGolf4Women, KEEN and Uncommon Brewers.
And as if the payout wasn't large enough, After the final scores were in, the top four Pro and Advanced teamed up for a $100 a hole skins match. Teams were paired up as follows; Valarie Jenkins/Jennifer Morgan, Catrina Ulibarri/Sarah Amaya, McKayla Thomas/Jenna Johnson, and Kristine King/Suzie Weigand. Through the four holes, impressive shots were thrown but no one won any skins. They decided to break up the money with a $100 CTP and split other $300 between the teams. It was a fun way to end the weekend and highlight the best players of the weekend.
Because this event was run a month earlier than last year, the poppies were in full bloom instead of the tournament's claim of daisies. It was fitting that the state flower was present because Daisy Chains was the first tournament of the Poppy Series Women's tour. This tour consists of five events in Northern California and Nevada, giving the ladies in the area more events and more competition opportunities. Ladies that competed in Daisy Chains earned 10 points for playing and 5 points for each person they beat. The finals will be held at the Monarch Migration in Sacramento in October.
Needless to say, the competitors did not leave Daisy Chains empty handed. Regardless of how they played it was certain they had a belly full of food, awesome homemade gifts, a great players pack, Poppy Series points, new friends, and priceless memories.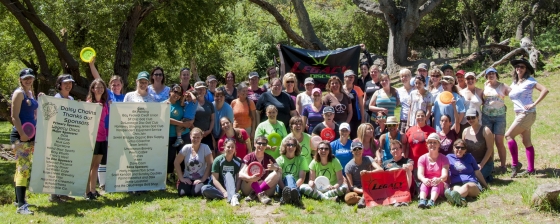 If you missed out on this amazing event, don't worry, there are several more women-only tournaments ahead this year. Check out the schedule on PDGA.com to start planning your next (or first) women's event.
– Valarie Jenkins #17495 (PDGA Women's Committee)