Round 1
The Stanford Women's Basketball team opened the Gulf Coast Showcase playing Missouri State. Stanford, coming off their worst loss in a long, long time (well, C and R don't know if it statistically was their worst loss, but the team looked really bad in the 61-58 loss to Santa Clara). This game Stanford was rebounding and out hustling Missouri State, a welcome change from the lost. The story of this game, though, was the threes; more specifically, the 15 made threes on 33 tries. Stanford won 82-65, although it was troubling the way the other team could drive all the way to the basket for lay ups. Stanford needs more help defense.
Round 2
Stanford played Dayton, Shannon Coffee's and my hometown. This game was saved by our Aussie, Stanford's first international recruit, Alanna Smith. She finished the game with 22 points, including 6-8 from behind the line, doing her best Bonnie Samuelson imitation. Lili Thompson scored 15 of her 19 in the second half, after Stanford got behind by 12 in the first half. Stanford went on an 18-5 run in the third quarter and held off Dayton 74-66.
Round 3
Stanford made it to the championship game of the Gulf Cost Tournament versus Purdue, and just what is a boiler maker? At least they weren't lady boiler makers, and we did like the Purdue announcing saying "Boiler up!"
The game was pretty even at the half, with Stanford enjoying a 26-21 lead. About the only difference was Stanford was 3-10 from three point land and Purdue only made one, on seven tries, in the final seconds. Purdue took the lead in the third quarter and both teams traded kept trading the lead. And yes, this time Purdue was hitting their threes. The third quarter ended with Purdue enjoying a 45-44 lead. More see-saw lead changes and we had ourselves a tie game at the end of regulation, 59-59. Bri Roberson also hit her threes, going 5-6 from behind the arc and led all scorers with 26. Lil Thompson added 17, including 9-9 in free throws. Stanford hung on to win the championship 71-65.
BTW, the 2015 Gulf Coast Showcase MVP was Lili Thompson. Miss Dependable averaged 21 ppg and 6 apg. Glad to see her stepping up!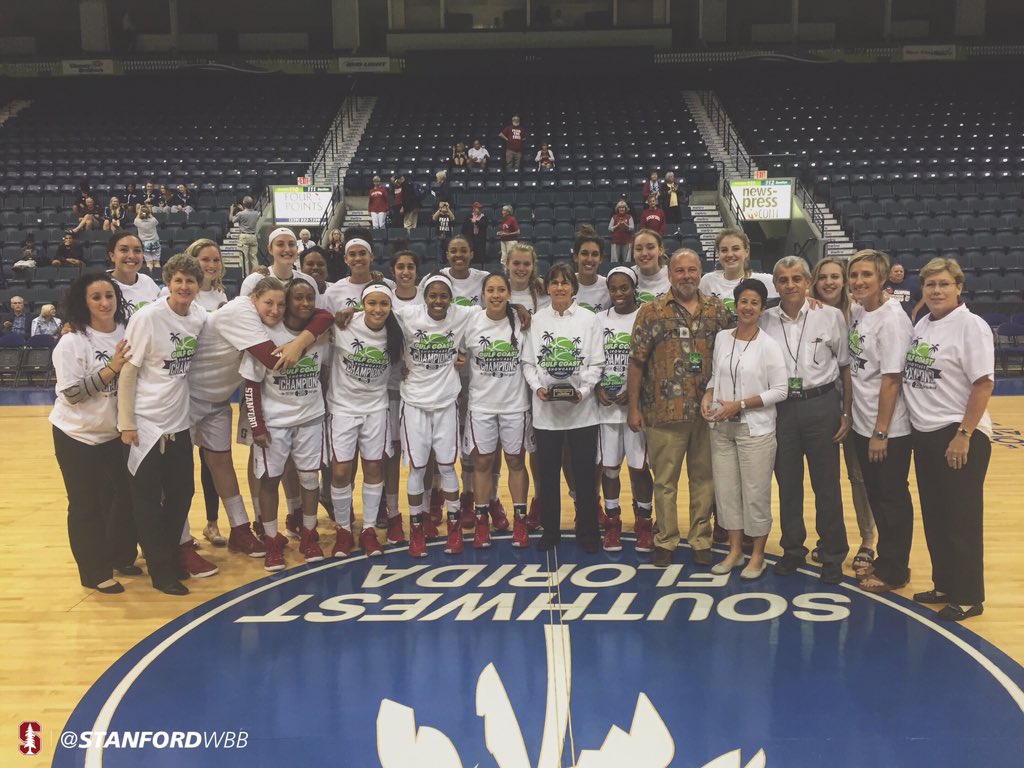 Champs! Photo Courtesy of Stanford Women's Basketball
C and R are, as always, thankful.