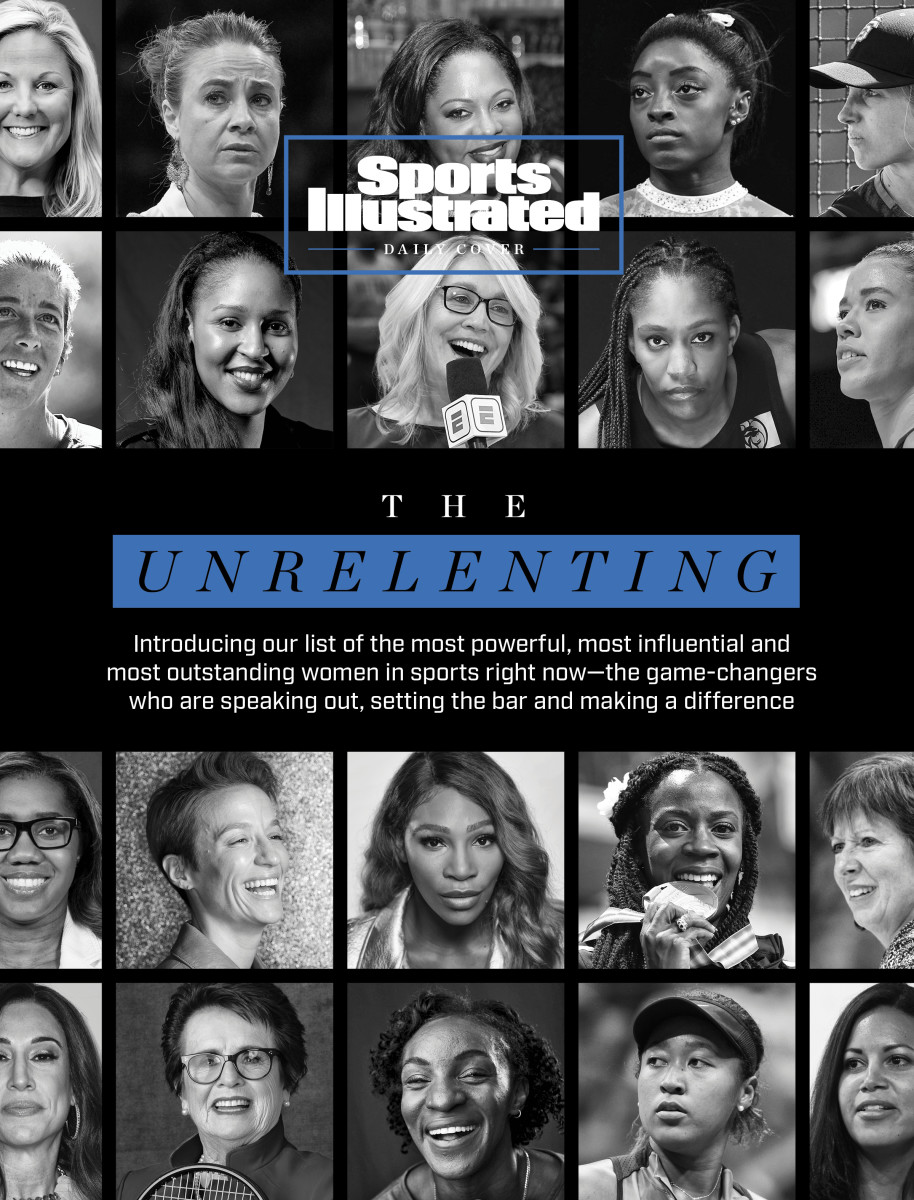 Sports Illustrated releases The Unrelenting List honoring women in sport who are speaking out, setting the bar and making a difference. On the list of honorees, you will find athletes, activists, executives, coaches and more. Women from different walks of life, diverse backgrounds, and a variety of sports, but all changing the game in their own way!
As an organization dedicated to championing women in sport we know the importance of recognizing women making strides in the industry and world. The women on this list are dynamic, relentless. powerful, influential and true gamechangers.
Billie Jean King – Tennis Legend and Social Activist
Naomi Osaka – WTA World No. 3 and three time Grand Slam Champion
Maya Moore – Minnesota Lynx Forward
Michele Roberts – Executive Director, National Basketball Players Association
Simone Biles – U.S. Gymnast
Terri Jackson – Executive Director, Women National Basketball Players Association
Jennifer Cohen – Athletic Director, University of Washington
Sandy Barbour – Vice President for Intercollegiate Athletics, Pennsylvania State University
Heather Lyke – Athletic Director, University of Pittsburgh
Carla Williams – Athletic Director, University of Virginia
Candice Storey Lee – Athletic Director, Vanderbilt University
Nneka Ogwumike – Los Angeles Sparks Forward
Megan Rapinoe – USWNT, OL Reign
Lisa Joseph Metelus – Executive, CAA Sports and CAA Board Member
Crystal Dunn – USWNT, North Carolina Courage
Doris Burke – Analyst and Broadcaster, ESPN
Alysia Montaño – U.S. Olympian, Track and Field
Alyssa Nakken – Assistant Coach, San Francisco Giants
Coco Gauff – WTA No. 51
Julie Donaldson – Senior Vice President of Media, Washington Football Team
Ada Hegerberg – Olympique Lyonnais Forward
Kim Davis – Senior Executive Vice President, Social Impact, Growth Initiatives and Legislative Affairs, NHL
Natasha Cloud – Washington Mystics Point Guard
Jessica Berman – Deputy Commissioner and Executive Vice President, Business Affairs, National Lacrosse League
Serena Williams – WTA World No.3
Blake Bolden – Pro Scout, L.A. Kings, and U.S. Ice Hockey Player
A'ja Wilson – Las Vegas Aces Forward
Samantha Gordon – Viral Football Star and Activist
Allyson Felix – Four-time Olympian, Track and Field
Cat Osterman, Jessica Warren, Victoria Hayward and Erika Piancastelli – Athletes Unlimited Softball Captains
Samantha Rapoport – Senior Director of Diversity and Inclusion, NFL
Hilary Knight – U.S. Ice Hockey Player, Three-time Olympic Medalist
Nicole Lynn – NFL and NBA Agent and Lawyer, Young Money APAA Sports
Courtney Dauwalter – Ultramarathon Runner
Becky Hammon – Assistant Coach, San Antonio Spurs
Simone Manuel – U.S. swimmer and four-time Olympic medalist
Keia Clarke – Chief Executive Officer, New York Liberty
Kendall Coyne Schofield – U.S. Ice Hockey Player, Two-time Olympic Medalist
Muffet McGraw – Former Head Women's Basketball Coach, Notre Dame
Lisa Baird – NWSL Commissioner
Brenda Tracy – Founder of Set the Expectation
Niele Ivey – Current Head Women's Basketball Coach, Notre Dame
Cheryl Reeve – Minnesota Lynx Head Coach and General Manage
Candace Parker – Los Angeles Sparks Forward and TV Analyst, TNT
Laura Okmin – Fox Sports Broadcaster and Founder of Galvanize
Mikaela Shiffrin – U.S. Alpine Skier, Two-time Olympic Gold Medalist
Odessa Jenkins – Cofounder, Women's National Football Conference
Nancy Hogshead-Makar – Olympic Swimmer, Civil Rights Lawyer and CEO of Champion Women
Dany Garcia – Chairwoman, The Garcia Companies
Johanna Faries – Commissioner, Call of Duty Esports
Whether you are familiar with the names on the list or not, these women are powerful in their pursuits, breaking barriers and making strides for women in and out of sports. To view the full story on all of these outstanding women, visit https://www.si.com/sports-illustrated/2020/10/06/the-unrelenting-women-in-sports-daily-cover .